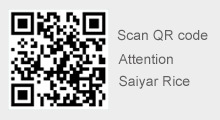 How to eat rice healthy for different people
---
There are many types of rice, different rice has different nutritional effects, and different people have different needs for rice. For us who eat rice, it is important to choose the rice that suits us to be healthier. So, how to choose the corresponding rice according to the difference of different people? Saiyamiye is here to help everyone:
Old man: White rice with some brown rice
Although white rice can provide the nutrition and calories needed by the human body, the nutrients in brown rice, especially the crude fiber content, are much higher than white rice, which helps gastrointestinal peristalsis, and can relieve stomach pain, constipation and other digestive diseases. In addition, brown rice can lower cholesterol and triglycerides and prevent cardiovascular and cerebrovascular diseases. Therefore, the elderly may wish to add some brown rice when steaming white rice.
Children: A bowl of millet porridge every day
Millet contains carotene and B vitamins that are not found in other coarse grains, which is beneficial to strengthen the digestive function of children. The nutrients in millet are easily absorbed by the human body, and are especially suitable for children with weak digestive functions. The most common method of millet is to cook porridge, which can also be combined with other ingredients, such as pumpkin, yam, sweet potato, lily, etc., to make porridge with different flavors, children love to drink, and more nutritious.
Young and middle-aged men: Eat more black rice to nourish the kidney
Black rice has the effects of nourishing yin and kidney, replenishing qi and strengthening the body, and replenishing liver and improving eyesight. Its nutritional value is higher than that of ordinary rice, and it can protect the cardiovascular system by eating it regularly. It is especially good for people with kidney deficiency. You can cook rice or porridge, which is a good choice.
Young and middle-aged women: barley for beauty, glutinous rice for warming and nourishing "Compendium of Materia Medica" records: barley can "invigorate the spleen and stomach, invigorate the lungs and clear away heat, nourish the skin and maintain the appearance, lighten the body and prolong life." The vitamin E and B vitamins contained in barley have the effect of lightening and whitening the skin. However, barley is slightly cool in nature, cold in the spleen and stomach, and people who are afraid of cold limbs should eat less. The main function of glutinous rice is to warm the spleen and stomach, so it can relieve the symptoms of night sweats, abdominal swelling after pregnancy, shortness of breath and fatigue after labor injury caused by deficiency of qi in women.
As the saying goes: "If you don't maintain health today, you will have a doctor tomorrow." In daily life, as long as everyone consciously eats some food that is good for the body, it may bring good health effects. Saiyamiye has focused on rice for 20 years and is committed to adding points to the health of the people. By choosing Saiyamiye, you are one step closer to health!