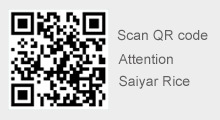 Purple cloth coarse rice
---
During the New Year, many people can't stand the temptation of food, their weight rises sharply, and they join the weight-loss army after the holiday. Practice three points, eat seven points. A reasonable diet is better for weight loss. A healthy diet should be low fat, low calorie, and high protein.
It is not advisable not to eat staple food to lose weight
As we all know, the rice we eat in our daily life is refined rice, so rice has become synonymous with carbohydrates and sugar. As a result, some weight loss experts have proposed avoiding carbohydrates (including rice, noodles, etc.) when sharing weight-loss experiences.
Jiang Jianhua, director of the Medical Nutrition Department of the First Affiliated Hospital of Anhui Medical University, said: "The weight loss method that does not eat staple foods is very popular in recent years. In fact, this method may be effective in the first three months. However, once re-exposed to staple foods, weight can easily rebound. "In fact, eating the right staple food can still lose weight." Jiang Jianhua said, if you do not eat the staple food, the supply of B vitamins will be cut off, neurotransmitters are prone to disorder, and weight loss people will be depressed, brain retarded, insomnia and depression, etc. This is also true. This is why many diet recipes recommend high-dose supplementation of B vitamins.
Semi-coarse grains can be used to replace the staple food of polished rice in daily life. The dietary fiber in semi-coarse grains can control blood sugar and weight well.
So, what can be called semi-coarse grains? As far as daily staple rice is concerned, after the rice is shelled and milled, part of the cortex tissue (peel, seed coat, aleurone layer) and germ of the rice is retained, and the processing precision is between refined rice and brown rice. Known as semi-coarse grains.
Coarse grain diet new trend
Since ancient times, people's pursuit of beauty has not changed, and women want to be white, beautiful and slim. Everyone knows that dietary fiber is the source of nutrients for intestinal bacteria and can effectively improve the intestinal environment; anthocyanins are beneficial to women's beauty and beauty. Beauty lovers should regularly take in dietary fiber and proanthocyanidins.
The test results of the world's authoritative testing organization show that the purple-clothed crude rice contains a variety of nutrients, including vitamin B, dietary fiber, folic acid, pantothenic acid, etc. At the same time, the inspection report of the national inspection and quarantine department shows that the proanthocyanidin content of purple-clothed crude rice is 357mg/100g, which is more than twice that of ordinary purple fragrant rice.
The ordinary purple rice on the market is mostly glutinous rice-type purple brown rice, while the purple-clothed coarse rice produced in the Heilongjiang River Basin of my country is a low-precision japonica rice product, and the processing accuracy is between refined rice and brown rice. Compared with purple brown rice, the stratum corneum of purple brown rice is destroyed and it is easier to boil, thus avoiding the problems that purple brown rice is difficult to cook, unpalatable and difficult to digest, and is suitable for long-term consumption.
Health Tips
The ratio of purple-clothed crude rice to water is preferably 1:1.4-1:1.6. People who lose weight can mix it with other rice or ingredients, and insist on eating small meals, low-sugar, low-fat, low-calorie, and proper exercise. I believe you will lose weight. The goal.