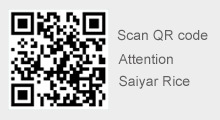 How to choose high-quality rice
---
In daily life, rice is an indispensable food for us. However, rice is not easy to store and it is prone to ageing. Therefore, when buying rice, you need to be extra careful so as not to buy expired rice and endanger your health. How can we buy fresh and high-quality rice to protect everyone's health and interests? Here are some tips for choosing high-quality rice.
How to distinguish the pros and cons of rice
1. Look at the hardness. The hardness of rice is determined by the protein content. The stronger the rice, the higher the protein content and the better the transparency. New rice is generally harder than old rice, while rice with high moisture is not as hard as rice with low moisture, and early rice is not as hard as late rice.
2. Look at the belly white. Usually there is an opaque white spot on the abdomen of rice. The white spot is in the center of the rice and is called "heart white". If it is on the outer abdomen, it is called "external white". The white spot of the rice contains more starch. The protein content is low. Rice that is too high in moisture, immature and immature after harvest is usually whiter.
3. Look at the explosive waist. After the rice is heated rapidly during the drying process, the balance between the inside and outside of the rice grains is lost, causing the waist to burst. Because this kind of rice is rotten inside and outside when it is eaten, the nutritional value of rice is reduced. Therefore, the rice should be carefully selected when choosing rice. If there are one or more horizontal cracks on the surface of the rice grain, it means that the rice is popped.
4. Look at the yellow grains. That is, some nutrients in rice undergo chemical reactions under certain conditions to cause yellowing of rice grains, or yellowing caused by microorganisms in rice. Yellow-grained rice is relatively inferior in terms of flavor and taste, so you should look at the number of yellow-grained rice in the purchase.
5. Look at Xin Chen. Under normal circumstances, the old rice is darker in color, less sticky, and tasteless without the fragrance of new rice. Therefore, you should carefully check the color of the rice when you choose. The surface of aged rice is gray or powdery or has white grooves, and the older the rice is, the deeper the grooves will be. At the same time, you can also smell whether the rice smell is normal and has a musty smell. It is proved that it is old rice; secondly, see if there is decay in the rice, if there is, it must be old rice.