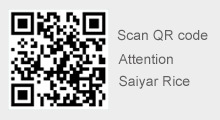 Coarse grains suitable for summer-barley rice
---
"Barley rice" is also called "Barley rice." According to legend, there was a general named Ma Yuan during the Eastern Han Dynasty. He tasted this thing when he was fighting on the frontier, and he felt it was sweet, so he brought back the introduced species, which was called "Sifan Mi" at that time. "Barley rice" has high nutritional value, and is known as "the king of grasses in the world"; in Europe, it is called "the grass of life and health". Seed kernels are not only good nutritional products, but also easy to digest and absorb, and are good food therapy products. "Barley rice" is grown in many areas of our country. The Guizhou plateau region with rainy and humid climate and sufficient sunlight is very suitable for the growth of barley rice. Saiya barley rice is selected from Guizhou high-quality barley rice. The grains are full and firm, the smell is fresh, the appearance is white as porcelain, and it is easy to cook.
In order to ensure that the barley rice is clean and free of impurities, a combination of machine screening and manual screening is used. The first machine screening removes the mud spots and other stains on the barley rice. The original manual selection is used to select the blended Impurities such as stones, sand, diseased grains, moldy grains and so on are mixed in.
Why does Saiyan have to do manual screening? Because the newly harvested barley rice is always mixed with a lot of sand, pebbles, shattered grains, diseased grains, moldy grains, and heterochromatic grains. Among them, moldy grains and diseased grains contain aflatoxin, which is a carcinogen and may cause cancer after consumption. The modern mechanical color sorter can remove some moldy and diseased particles with obvious color difference, but the moldy and diseased particles with smaller color difference may still remain inside. Therefore, the more reliable method is to use manual selection. Of course, the cost will be greatly increased. Therefore, the price of Sai Yai Ren Mi is slightly higher than other similar products.
In the anti-insect treatment, the exclusive national patent "high-frequency stress shock green anti-insect technology" is used to physically prevent insects and kill the eggs attached to the barley rice, avoiding the pollution and harm caused by traditional chemical fumigation and deworming.
Every pack of barley rice in Saiya has undergone formal nutrition testing and meets human needs. Professional packaging, safe to eat, fragrant and attractive, soft and sweet, slippery but not greasy, soft and waxy in the mouth, not rough. It can be paired with a variety of foods, making it a great choice for home trips and gifts to relatives and friends.