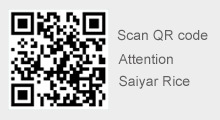 ---

Xiangyang Saiyar Rice Co., Ltd. was established in August, 1996. The headquarters is located in No. 11 Hongguang Road, Xiangyang City and covers a land of 50mu. It has modern dust-free workshop, raw material warehouse, completed product warehouse with an area of 10,000 square meters. The asset reaches RMB 48 million and the annual production capacity is 50,000 ton. It is a comprehensive private enterprise specializing in researching, developing, growing, processing and selling middle and high-level nutritious rice. It is recognized as one of the key leading enterprises of provincial agricultural industrialization by Hubei Provincial Government. It is certified by Science and Technology Department of Hubei Province as "in the leading place in China and the world". It has also gained numerous reputation successively including "Hubei Province famous brand", "Hubei famous brand product", "high-tech product", "national reliable rice and oil business model", "Hubei Province science and technology business model", "green food certification" and "consumer satisfaction product".   
It has four brands, namely, "Saiyar, "Saiyin", "Lizhong" and "Brilliant Grain". The major products cover 56 kinds including Saiyar quality rice, nutritious rice, functional rice and quality grain. The products are well sold to over 10 provinces and 50 regions in China as well as HK and Canada.
In order to ensure product quality, the company was the first to use high-frequency forceful vibration physical technology to resist insects in China in 2008, which was rated as "in the leading position in the world" by Science and Technology Department of Hubei Province in 2012. Meanwhile, it also established constantly low-temperature cold storage with an area of 1,000 square meters and obtained ISO9001: 2008 international quality management system certification. Now, it has six core advantages including "green base, quality rice seeds, physical technology to resist insects, low-temperature cold storage, advanced technique and strict product controlling" to ensure to convey the high-quality products to numerous consumers.
Saiyar Rice consistently adheres to the operation philosophy of professionalism, focus, technology and innovation and advocates the green, safe, healthy and nutritious quality life, wishing to convey the honesty awareness of the company to all the consumers through its products.
Saiyar focuses on nutritious rice to make consumers healthier.