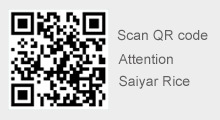 ---
Distinguished friends from all walks of life:
Welcome to Xiangyang Saiyar Rice Co., Ltd.    
Saiyar Rice is recognized as one of the key leading enterprises of provincial agricultural industrialization by Hubei Provincial Government. As the only national rice product, Saiyar silk seedling rice was recommended by COIA to attend the Global Organic Food Expo in Nuremberg of Germany in February 2004. In 2005, the newly-researched silk seedling rice in the shape between round-grained nonglutinous rice and long-grained nonglutinous rice and with both Northern and Southern flavours was listed in China Science and Technology Spark Program Project.
All these achievements of Saiyar Rice are the significant results of sustained, rapid and sound development in China's economy for many years and people's care and support of Saiyar for many years.
During the development, Saiyar consistently adheres to the quality concept of "People's quality comes first to product quality" and the value of "following green nutrition through to the end". Under this guidance, there is no accident of food quality and safety ever during the development of Saiyar Rice with safe, healthy, nutritious and quality products for billions of consumers. Under this guidance, our development strategy can be accepted by the society and supported by all of you.
I wish you could care for and support Saiyar continuously. Let us work hand in hand to realize the aspiration and goal of Saiyar and nurture every family in China in the near future.