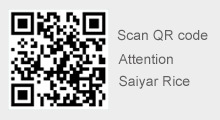 ---
Saiyar believes that realizing the benefit is the foundation of enterprise survival and development. However, realizing the benefit is not the only meaning of enterprise survival. As a member in society, it is necessary for enterprise to shoulder the relevant social responsibility. With the aspiration of "making the best brand of nutritious maple food in China and making every family healthy", Saiyar sponsors and holds lots of social service events to shoulder the responsibility.
"The quality seedling rice is given to kind people"


On October 12, 2011, "The quality seedling rice is given to kind people" grand social service event was held in Chongqing. The election lasted 2 months and over 300 people were voted. Through online voting, 30 people were elected as the representative "kind people in Chongqing" finally.
"Plan of Caring Maple Food Nutrition in Elite Families"


As maple food, rice is consumed by every man every day and plays a particularly important role in balancing food nutrition. However, the delicious refined rice with little nutrition is always the major food for consumers. In response, on May 13, 2012, Saiyar "Plan of Caring Maple Food Nutrition in Elite Families" started in Chongqing. About 1,500 elite families were invited to taste freely the new kind of nutritious rice – Saiyar seedling rice.
"Event for family members"
In order to help more families lead healthier and more extraordinary life with more qualities, Saiyar "Family member club" started formally on July 1, 2012. The club continuously promoted a series of member specific services including films, physical examination and seminars on nutrition to its members. Member service is a new kind of exploration for Saiyar to publicize the knowledge of nutrition and health and improve the service quality to the general public.
"Sponsoring "Saiyar Cup" Ten Outstanding Women Election in Shiyan "
Women are important parts of the society. Women have not only the traditional virtues of Chinese women including kindness, warmth, and initiative but also the morality of modern women including surpassing oneself and improving life value. Women can greatly promote the social, economic and cultural development. In June, 2012, Ten Outstanding Women Election was held in Shiyan. Saiyar sponsored this election and sent the seedling rice to outstanding women to show the best wishes of their health and sincere tribute to them.
Donating Disaster-Stricken Area

On August 6, 2012, due to the heavy rain in Baokang County, Baila Village, the fixed assistance target of Saiyar Rice, also suffered in various degrees. Saiyar donated RMB 30,000 to it to help recover its construction work after the disaster. Before that, Saiyar Rice has provided it with lots of support including office facilities construction, walnut buds and funds for many times without compensation.

There was a big earthquake with a magnitude of 7.0 in Ya'an on April 20, 2013. When knowing the rice shortage in Ya'an, Saiyar Rice made the decision immediately to donate 15 ton rice to Ya'an to support post-disaster reconstruction in earthquake-stricken areas.